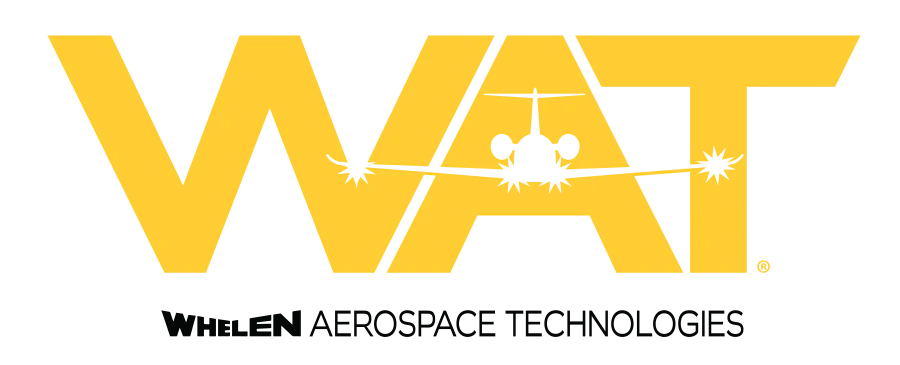 Download Whelen's Full Line Product Catalog HERE

Whelen Aerospace Technologies represents a rich history in technological innovations and is now positioned as the global leader in the aerospace lighting market. For over 65 years, we've had exceptional milestones that demonstrate our dedication to constant innovation, and we've never been more excited for the future.
3 Items in Grid
4 Items in Grid
List
Whelen Aircraft Lighting Solutions at Air Power Inc.
For over 65 years, Whelen aircraft lighting has been a staple in the aviation industry – giving pilots the tools they need to stay safe and visible during night flights. As a global leader in the aerospace lighting market, they specialize in designing, engineering, and manufacturing cutting-edge products to enhance your flying experience. Air Power Inc. proudly partners with Whelen Aerospace Technologies to supply high-quality Whelen aircraft lights to general aviation pilots worldwide, meeting the highest industry standards and promoting safer skies. With a wide range of their finest products available at the best prices in the industry, you're sure to find the Whelen lighting you need for your airframe. Elevate your airframe's lighting performance. Shop Whelen aerospace lighting from Air Power Inc today.
Air Power Inc. Is Your No. 1 Supplier of Whelen Aircraft Lights
Since 1992, Air Power Inc. has been a proud provider of Whelen aircraft lights to meet general aviation pilots' needs on all types of airframes. Every product in our catalog is FAA-approved, meeting the highest standards for performance and reliability. With Whelen lights, aircraft gain superior visibility, reducing the risk of potential hazards in all weather conditions.
We Carry Whelen Aircraft Lighting of All Types
Air Power Inc. offers general aviation pilots the largest selection of Whelen Aerospace Technologies products for all your aircraft lighting needs.
Within our catalog, you'll find Whelen aircraft lighting solutions such as:
Expert Guidance for Your Whelen Lighting Needs
At Air Power Inc., our commitment to customer service is second only to our love for aviation. If you're searching for the perfect Whelen lighting solution for your aircraft's make and model, our specialized team is here to assist you. With over 100 years of combined industry experience, our aviation knowledge sets us apart. Feel free to reach out to us anytime for expert guidance and personalized assistance. Your satisfaction and safety are our top priorities.
Frequently Asked Questions: Whelen Aircraft Lights
Have questions or need more information about Whelen aircraft lights? Take a look at the answers to our most frequently asked questions below.
Are Whelen Aircraft Lights Compatible With All Aircraft Models?
Whelen produces lights designed to fit a broad range of aircraft models. However, verifying compatibility with your specific make and model is essential to ensure a proper fit.
Is Whelen Lighting Suitable for All Weather Conditions?
Whelen aircraft lights are designed to withstand various weather conditions, including rain, snow and high humidity.
Will Whelen Aerospace Lighting Require Special Maintenance?
No. Whelen aerospace lighting is designed for easy maintenance, but periodic inspections and cleaning are essential to ensure optimal performance. Follow the manufacturer's maintenance recommendations and guidelines for longevity.
Shop Whelen Aircraft Lighting at Air Power Inc. Today
When you need Whelen aircraft lighting at a low cost, turn to the team at Air Power Inc. Whelen aircraft lights are trusted by pilots worldwide, from general aviation enthusiasts to commercial airlines who demand the best in quality and performance. Browse our entire selection today. If you still have questions, need assistance, or want to discuss which Whelen lights will suit your needs, contact our team today. We're always happy to help.
CONTACT US
Why Should You Order Aircraft Parts & Engines Sooner Than Later?
How Aerospace Supply Chain Issues Are Impacting the Global Aviation Industry
Top Benefits of Financing an Airplane Engine Purchase